On that walk we took, we came to the lake that was viewable from that earlier peak picture.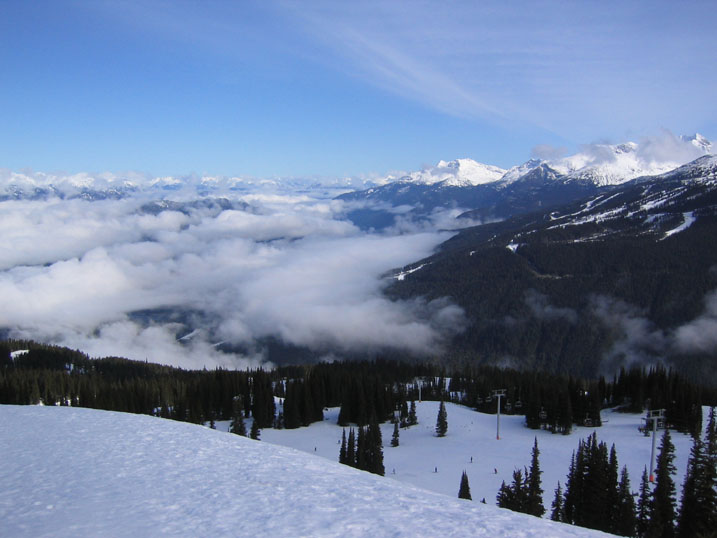 The next day we pressed on and took to the hill again. This picture is taken from Whistler mountain and you can see some runs on Blackcomb mountain. (With a lift ticket, you have access to two huge freaking mountains. It's way more than you can cover in a day, and probably even in a week. See here for a trail map).
Same thing, looking at Blackcomb from Whistler.
Some mountain chairlift rides can be a little hairy. THIS ONE made me put the safety bar down every time. 9.8 MB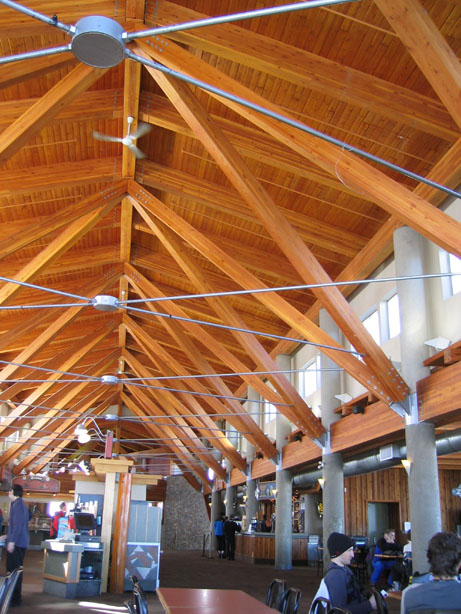 This is just one of the many chalets on the mountains. I thought the ceiling support beams were especially burly. I'm sure these lodges get buried in snow during a normal winter.
This is looking up to the top of our one snow hike. You can see two people in the upper right. The reward was... not that great. But, it was something to do.
Some lone peak off in the distance.
This is a panoramic shot of the back part of Blackcomb mountain. I kept reminding myself throughout the week that even though the snow was crappy, I was not at work, and I was surrounded by beautiful views all day long.
Here is an example of what I talked about earlier. Approximately half way down the mountain, there was no snow but the artificial stuff, and even that was nearly gone. Look at it! No friggin' snow! Normally the entire mountain is covered. This sorry path provided an awful way to get to the base of the mountain. The run had dirt, grass, and rocks often showing through the snow. Our boards got a bit hacked. After the first day of riding all the way to the bottom, we opted to just take the gondolas down the rest of the week.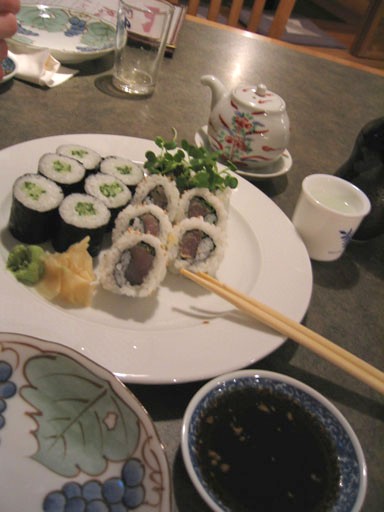 We took solace in food and drink. The sushi runs plentiful and cheap. We had it twice. Above I had some hot sake too.
We also made a habit of a nightly coffee stop. It was disappointing to find that all 3 of the coffee shops, including one Starbucks, made crappy coffee. Not until Vancouver did I have a good cup (Seattle's Best) and some espresso (Cafe Crepe). Above is Mogul, a coffee shop we visited 2 or 3 times.