Chris begins the 2 (or was it 3?) hour hike up into the white unknown in the White River park. Mt. Hood looms ominously and beautifully in the background.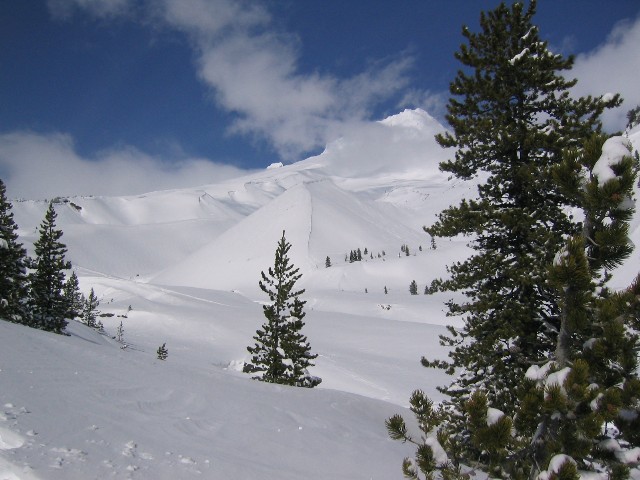 Notice the hill with the ridge in the middle of the picture. We walked towards the right of that, and beyond what is visible in this picture.
Click HERE for a larger version of the panorama.
Chris took this picture of Dave blazing the trail in the powder. Even with snowshoes, being the leader was about 3 times harder than being the follower. Dave did most of the blazing, I'd say.
We had sun, haze, and snow drifts.
Note on the videos: if you save them to your hard drive and then open with Quicktime, you can use the arrow keys for some good freeze frame fun. You can advance the video one frame at a time. Otherwise Windows Media Player, BSPlayer, or other players should work fine for normal playing.
HERE is a video of Dave and Chris building a jump, as well as the rock that was our "summit" for the day up the hill from where the jump was. 2.91 MB
HERE is Dave jumping and landing on his head. He had a sore neck the next day. 2.41 MB
HERE is Don jumping and landing on his rib, which he bruised. 1.7 MB
Chris landed his jumps with no or less-than-spectacular wipeouts.
After the jump, we hiked up to the rock that was in the earlier video. Dave took this picture with his camera set on a snowshoe. Unfortunately, the lateness of the day made the snow slightly crust over, which made for quite a difficult and long ride down, instead of the soft powder run we expected.